THE ANSWER IS CLEAR: YES, WE CAN!
Desirable brands or also called Love Brands are highly attractive and have a strong as well as distinctive character. They know about the dreams and wishes of their target group. Desirable brands are characterized by an excellent understanding as to what their customers really want. They are well aware of how a deep bond between customer and brand is created. With a desirable brand, every company gains a perfect brand ambassador. This is also the reason why these brands enjoy blind trust among users.
THAT'S WHAT DISTINGUISHES DESIRABLE BRANDS FROM OTHERS:
Desirable brands have that certain something and thus stand out from their competitors. They build a strong relationship with the customer and create an intense bond.
After all, people who love their brand will embrace it wholeheartedly. They feel a strong emotional connectedness with it and will also warmly recommend it to their friends.
WHAT DOES THE PROFILE OF A DESIRABLE BRAND LOOK LIKE:
A desirable brand is good and easy to understand
It is unmistakably positioned and tells an emotional story
The promise it makes will be kept at all touch points
All services are offered in top quality
It should build trust and exceed expectations
It keeps staging itself anew with fascinating stories
It has a strong brand community
These brands set trends and offer innovations
THE 100% DESIRABILITY OF A BRAND IS MADE UP OF SIX BLOCKS
EXCEED EXPECTATIONS
BUILD TRUST
RECOGNIZABLE INNOVATION OR TRENDSETTING
APPRECIATION FOR THE CUSTOMER
SHARED VALUES NEED TO BE APPARENT
CREATE BRAND EXPERIENCES THAT INSPIRE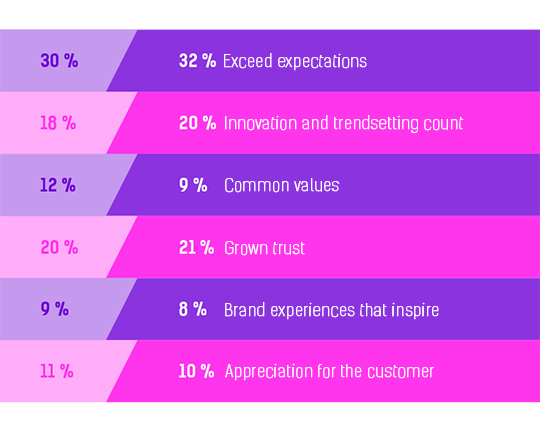 FEATURES THAT MAKE A BRAND DESIRABLE:
Mysticism
Can be through the story that is told about the brand.
Sensuality
The point here is to ensure that the Customer Experiences the brand through all their senses.
Connectedness
This is the moment when the customer builds a strong emotional bond with the brand.