CONTENT MARKETING - REACHING YOUR TARGET GROUP WITH THE RIGHT STRATEGY
Content Marketing is not a short-term trend but has become an important part of the marketing mix. Today's users expect content that offers absolute added value - because visitors must be convinced with relevant information - both in B2B and in B2C.
Basically, it's about perfectly capturing the visitor's needs. As an effective inbound instrument, Content Marketing must have the right solution, i.e. the optimal content, ready for the most diverse inquiries possible. The best way to do this is to bundle SEO, social media activities, user guidance and editing into one agile unit. This is because target group-oriented and high-quality content, which forms an important basis for further decision-making, is becoming increasingly relevant.
However, customers want to see their emotions captured not only in terms of content, but also emotionally - in the form of Emotional Storytelling. For your customers we make your company an important interlocutor and friend.
Regardless of whether you are a service provider, B2B or B2C - we offer you efficient solutions that are tailored to the individual needs of your customers.
Content is and remains king - to be found on Google, to give the user the best possible answers and to generate targeted leads in the course of a sensible
SEO strategy

.
Advantages of content marketing
Credible communication
Because content marketing works like an exciting novel with "to be continued", which makes products, services and brands interesting for your target group.
Creation of relevant content
Create new relevant occasions - packed in a good and credible story - so that the customer decides in favour of your product, company or service. Because good storytelling is as diverse and "real" as real life.
Generate more leads
Because content marketing gets potential customers excited about your company, brand, service or products.
Individuality is the key
Make your company unmistakable. Especially in times of interchangeable markets, it is important to stand out from the competitors and make yourself unmistakable. This can be achieved with unique storytelling on all communication channels. Last but not least, Google rewards these marketing measures through higher rankings.
Increase in customer loyalty
Always new, excitingly told content ensures that people will be talking about your target group and your customers.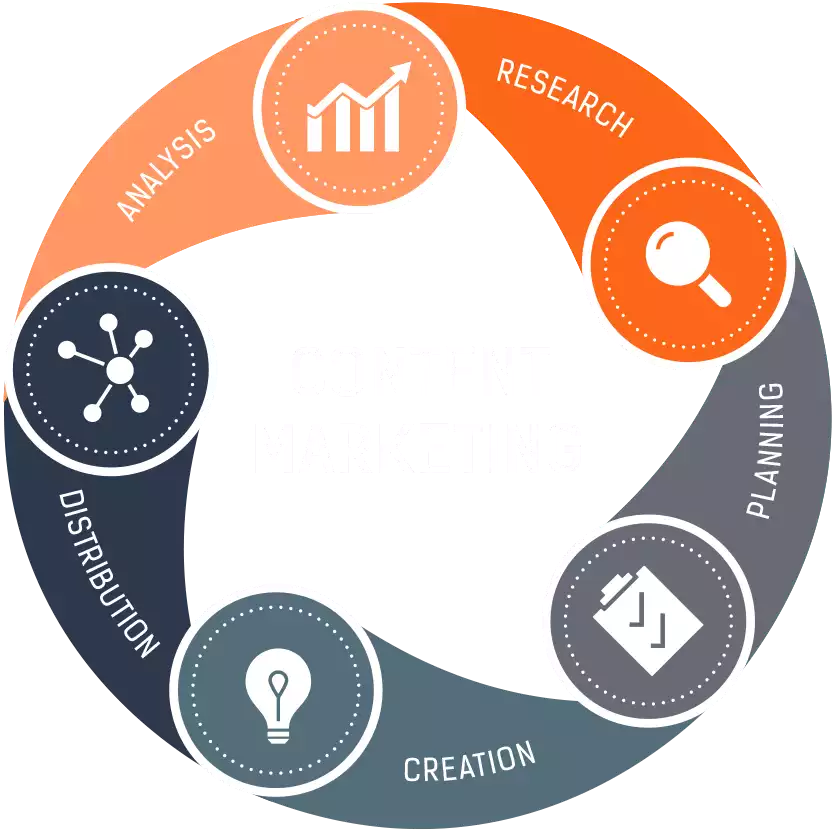 1st step: Content research
The first step is brainstorming. This step includes identifying the most important search terms, topics and product features for the target group.
2nd step: Content planning
In this step, the topics and campaigns must be planned, structured and controlled. Care should be taken to ensure that defined call-to-actions are directly linked to the ccntent.
3rd step: Content creation
When creating content, make sure that only the best and only relevant content is created in terms of brand, user and search engines.
4th step: Content distribution
The goal here is to increase the reach, generate links and increase Google rankings. In this phase emphasis should also be placed on the fact that the authors create the posts at the same time.
5th step: Analysis
In this step, it is important to find out which content works well, evaluate the visibility, implement insights and reproduce successes.