SEE AND USE CROSS-MEDIA COMMUNICATION AS A TOOL FOR SUCCESS - YOUR AGENCY FOR INNOVATIVE COMMUNICATION IN NUREMBERG, FÜRTH, ERLANGEN AND MUNICH
Markets, target groups and media usage behaviour are changing at an ever faster pace. As a result, marketing decision-makers constantly have to face new challenges nowadays while taking into account a wide range of different perspectives. This is the why more and more companies are making it their business to understand these complex issues and to find competent partners who can help them successfully launch the communications of tomorrow.
An integrated campaign manages to combine all elements of the communication strategy in such a way that there are no contradictions in terms of design and content. However, this also includes developing a Brand Story - because people are becoming more and more interested in the story which stands behind it. This brings the unique idea of the brand to life - since the Brand Story fills the brand with life. The customer is immersed in the world of the brand and becomes part of this world - as customer and company build up a relationship and actively start communicating. And thus become friends.
Emancipated consumers change their decision-making processes.
It is a general fact that customers have a lot more information channels at their disposal than they used to have in the past. As a result, the decision-making processes of the target groups have changed considerably and customers have become more emancipated. Those who understand these processes and lead the cross-media dialogue gain new competitive advantages.
SUCCESS THROUGH 360-DEGREE COMMUNICATION
Interview with Sibylle Lingner, owner & managing director of Marketing Communications Services S. Lingner GmbH
Read now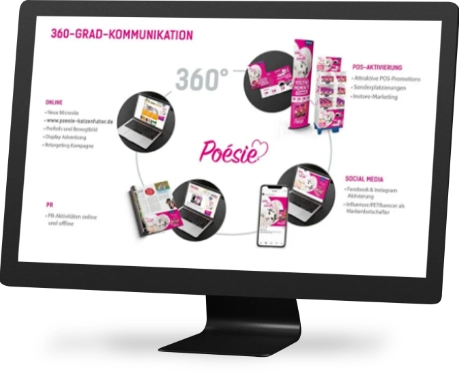 OFFER YOUR CUSTOMERS A GENUINE AND COMPREHENSIVE BRAND EXPERIENCE
CROSS-MEDIA COMMUNICATION WILL SUPPORT YOU IN THIS PROCESS!
Procedure for cross-media campaigns
The first step is to develop the main idea for the cross-media campaign. This idea will then be the key signal for the entire direction of the communication and subsequently be implemented and experienced across all channels and touchpoints. In this context, it is important to take a holistic and cross-media approach right from the concept phase. Of course, creativity plays an important role here from the very beginning in order to stand out from the ordinary as well as to inspire and cleverly pick up potential customers.
Exploit cross-media opportunities - as multi-channel works as an amplifier. This ensures that you are always available for your customers at all important touchpoints. Moreover, cross-media campaigns are an important and central element in building a consistent brand image.
Other advantages:
- A networked campaign will result in a measurable increase in brand awareness and advertising recall
- Become Top of Mind with the target group
- The willingness to buy as well as the branding in general will show higher values
- Wider brand experience
- Interest in the product or service increases
- The penetration of the advertising message within the target group will increase
- Viral effects will be achieved via social media
CUSTOMERS FOR WHOM WE HAVE ALREADY WORKED IN THIS AREA: